Several trends in the merchandising industry are making bulk barbed cord and barbed elastic cord an absolute must for POP displays. Budget conscious, multi-configuration displays are particularly on trend right now at shops across the country because the economic atmosphere, though brighter than a few years ago, is still shaky. POP display trends reflect that sentiment:
Portability—Merchandisers for big chains and smaller local shops alike want their POP displays to go anywhere they know they can get the biggest bang for their bucks. They fit in smaller spaces, they hang from the ceiling and they're easier to move to different areas of the store depending on current need. Hanging signage and POP displays fastened with strong, yet light barbed elastic cord meet this need.
Flexibility—Gone are lavish, wasteful, one-time only displays. Merchandisers need ways to adapt, reconfigure, reduce, reuse and recycle POP display elements multiple times while still keeping the displays fresh. Barbed cord for hanging displays can be reused time and time again in many POP display configurations.
Environmentally-Friendly—Speaking of recycling, merchandisers and their retail customers must respond to the growing demand for using eco-conscious materials in their end products; marketing materials and POP displays must also keep pace with this need.
Quick Turn-Around—Unlike the long-range merchandising planning cycles of the past, today's retail POP cycle is faster and tighter. POP displays attached with barbed elastic cord are flexible enough for quick changes and multiple design iterations, they're perfect for what's next in POP display design.
Elastic Connections can fill big merchandising orders for barbed elastic cord and non-elastic barbed cord for POP displays and signage. We have standard colors in stock for bulk orders, but we can also create custom bulk orders in different colors and gauges to provide that extra level of customizability for the end client.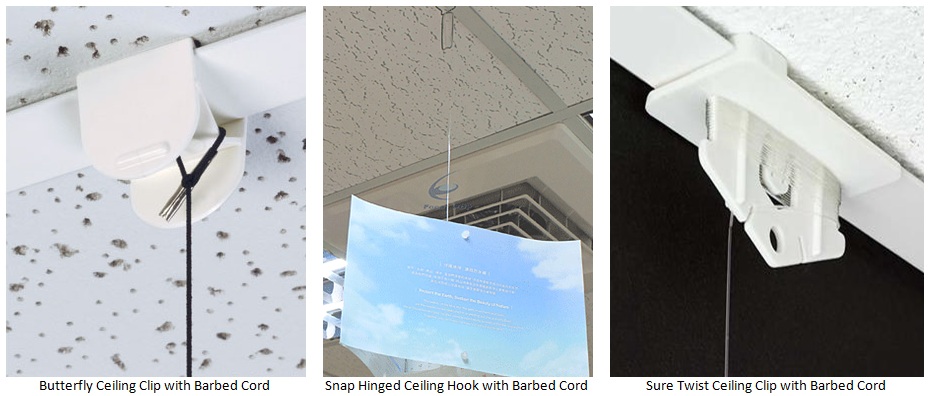 Contact Elastic Connections today at 847-426-6830 to discuss barbed elastic cord for your POP display designs and orders.