Although some sticklers insist that a gift isn't complete unless it's wrapped in a box, more people have turned to gift bags over wrapping paper since 2002. In fact, retailers of fine products such as jewelry, accessories and gourmet food items love gift bags as a practical packaging solution and a spiffy way to boost brand awareness. Twisted rayon cord for gift bags is a super finishing touch for gift bags.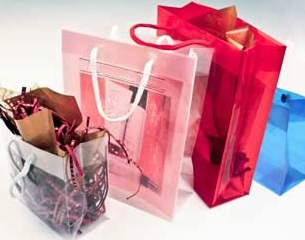 Twisted Rayon Cord Gives Gift Bags a Classy Touch
Twisted rayon cord's shine and rich color add a pop and a depth to the overall gift bag design. It's classy to the point that even the fussiest of gift packagers can feel comfortable using the retail gift bag as the final gift wrap itself. Best of all, gift givers are known to re-use gift bags multiple times, which is great for the environment and convenient for the gift giver too.
Twisted Rayon Cord: Flexible without being Stretchy
Twisted rayon cord is strong, durable and not at all elastic, which is as it should be. Gift bag cord should support the weight of the intended gift with grace and durability. We carry several different gauges and lengths of pre-cut twisted rayon cord in 16 ready-to-use colors; but we can also do custom colors and lengths to fit your gift-packaging needs. Of course, the bigger or heavier the product that will go into the gift bag, the more reinforced the bag itself needs to be.
Twisted Rayon Cord: Also on Spools
In addition to being used as classy gift bag handles, many merchandisers request bulk twisted rayon cord on spools so they can incorporate the same thread they use in their gift bags into other merchandising ideas, such as hang tag thread for price and product information tags, other wrapping options, etc.
Contact Elastic Connections today to find out more about twisted rayon cord for retail gift bag design: 847-426-6830.