Whether you sell perfume, candles, whiskey, jam, clothing, gourmet sauces or anything else needing a hang tag, you also need elastic hang tag string loops to attach the price tags. You may also want to have customized hang tags that stand out for your merchandising efforts. But what do you actually call those price tag strings so you can find them in bulk? Stretchy price tag loops? Elastic loops for hang tags? So many names for one thing.
Hang Tag String Loops
One problem people encounter when searching for hang tag loops is that they may have different product characteristics in mind:
Metallic elastic price tag loops
Elastic string with tassels (or elastic cord with tassels)
Colored elastic price tag loops
Bulk elastic hang tag strings
Elastic cord with ball
Knotted elastic string loops for hang tags or price tags
Bulk elastic string with knots
Knotted elastic hang tag loops
And on and on, in any number of combinations. If you are marketing a sophisticated perfume, liquor or gourmet sauce or syrup, bulk colored elastic loops with tassels might be just what you need. Bulk metallic elastic loops with silver or gold balls are great for boots or luggage. You may only need knotted hang tag loops so people focus entirely on the product.
Hang Tag String Loops
No matter what kind of bulk hang tag loops you need for your product, Elastic Connections has a huge variety of them. Tasseled, knotted, simple elastic, twisted rayon cord, metallic elastic loops, some with pre-tied bows or elastic loops with gold balls on the end too.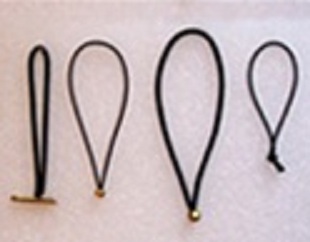 The name of the hang tag string loops isn't as important as making sure you get the right elastic loops for your product. Contact Elastic Connections today at 847-426-6830 to talk with one of our representatives who can help you get exactly the bulk elastic hang tag loops that will fit with your marketing and merchandising needs.